SmartConcierge
automated care coordination
SmartConcierge optimizes care coordination and revenue by automating processes that that emergency department (ED) patient navigators use to increase follow-up adherence. SmartConcierge includes and builds upon the SmartContact and SmartControl systems.
Effective care coordination improves patient outcomes, professional satisfaction and the financial health of the healthcare systems.  Care coordination opportunities typically originate int he ED since this is the most common port of entry for the medically naive and a (too) commonly used resource for the medically disenfranchised. Unnecessary ED use is a sign of an inadequate patient-provider relationship and correlates with avoidable admissions.
Care coordination  opportunities abound in the ED and take on many faces. Many patients begin their first healthcare journey in the ED. The major touch points of someone with a meniscal knee injury may be the ED, orthopedic office, MRI, arthroscopy, and physical therapy. Also, when a medically fragile (e.g. cardiomyopathy or COPD) patient seems to have accelerating ED use, there may be issues related to follow-up compliance and inadequate home care.
SmartConcierge helps navigators identify patients that can benefit most from their services. The system matches patients to the right providers based on office location, insurance accepted and schedule availability.  After discharge, SmartConcierge automates reminders and monitors attendance.
SmartConcierge leverages tools for patient engagement, utilization control, workflow automation and business by analytics to ensure optimal patient follow-up, which improves care quality, revenue, and patient loyalty.
Follow-up Manager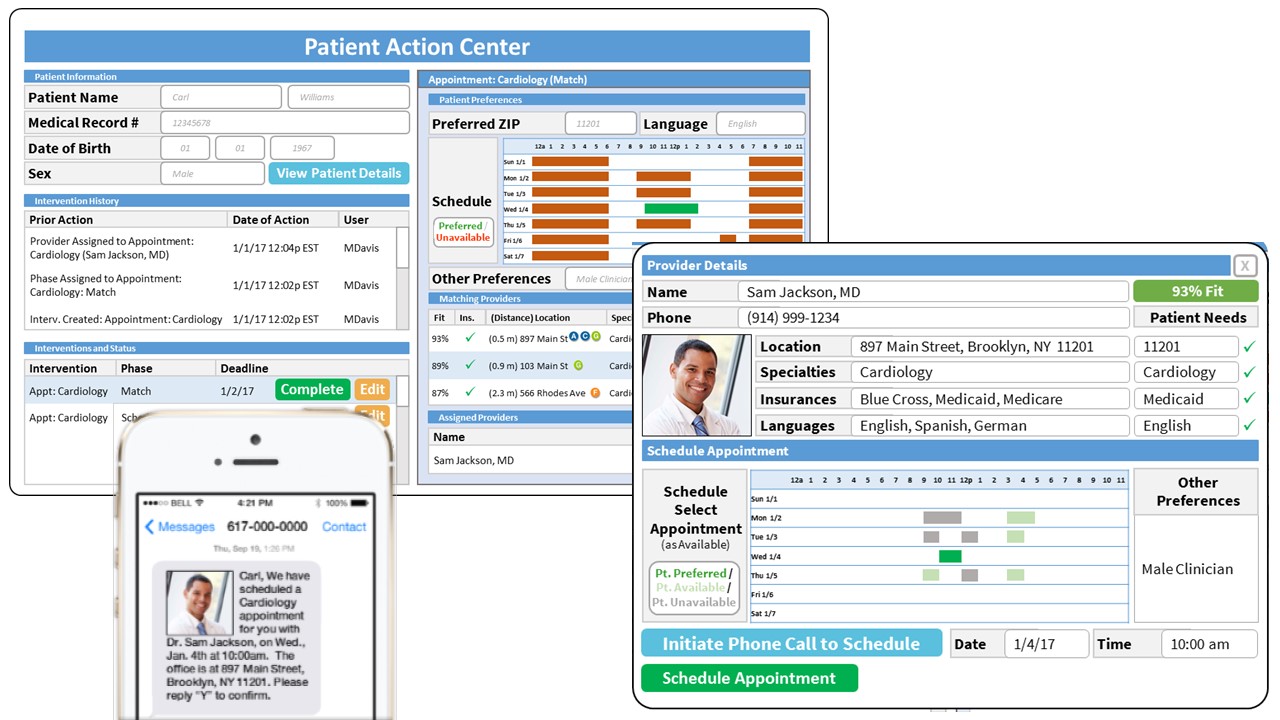 Features
Coordinate Referrals
Patients matched to providers that have agreed to participate in care coordination.
Lower Clinic No-Shows


Patients scheduled with providers and adherence tracked.

Leverage Incentives


Redmission penalties are avoided and pay-for-performance incentives maximized.
Integrate Care
ACO patients will receive timely, integrated care in primary care medical homes.
Enhance Business Analytics
Clients empowered with referral pattern data so that gaps can be closed.
Smooth Launch
System integrate with any EMR so services can be immediately initiated.
PRIVACY/SECURITY/SUPPORT
SmartER products comply with patient privacy and data security requirements defined by HIPAA and HITECH. Click here to view our HIPAA Privacy Policy.
Our cloud host has strict privacy controls, utilizes a vetted reporting mechanism, undergoes stringent audits, and is responsive to concerns. Client information is segregated on a single-tenant server and protected with multiple-layer passwords and strict authentication processes. Data integrity is assured by 256-bit SSL encryption and server authentication with extended validation certificates. The system is functional across multiple platforms including tablets and smart phones.
Clients have access to 24/7 technical support.